Promising setups
June 13, 2012
It's a really hard project here. I was asked to come a little late I feel and I need to perform constant firefight. I really enjoy it. However, I need to note UK weather is terrible, also food is a pain here. Tasteless food with fat. I only eat carrot and cucumber, sometimes some tomato, fresh food only. Wine culture is under every standard. I have 2.5 weeks left and I will be very happy to go home and enjoy my small and crazy country with excellent food, great culture and huge wine selection.
Well, going back to stockmarket, as I told, dollar needed time to erode and I feel it's not over. However we have excellent signals. My proprietary short-term indicator system is shouting for turning points in platinum, gold, silver. However we need few weeks to have real strengths, turning point means high chance for bullish reversal and then, later relief rallies from this terrible period.
We had to wait for long months... I'm sure you were bored to the tears reading me not now, let's wait, be patient etc... If you followed me, then you have nice cash, we could avoid the terrible hit for miners, also could successfully jump out before stockmarket lost it's 2012 gains.
I don't know what will trigger this rise... but smarts know something. Maybe QE3 is in few weeks.
Guys, it's time to wake up from sleeping and concentrate. Focus, focus, focus: wash your faces with fresh, cold water, drink some nice coffee. We HAD to sleep for almost a half year, we had to suffer disgust. While others felt fear, you just only were frustrated reading my posts and stay in cash. But sometimes cash protection is a key. We could see in 2008: leaving market and waiting was the best option. All of it seems me quickly over and some money will come soon.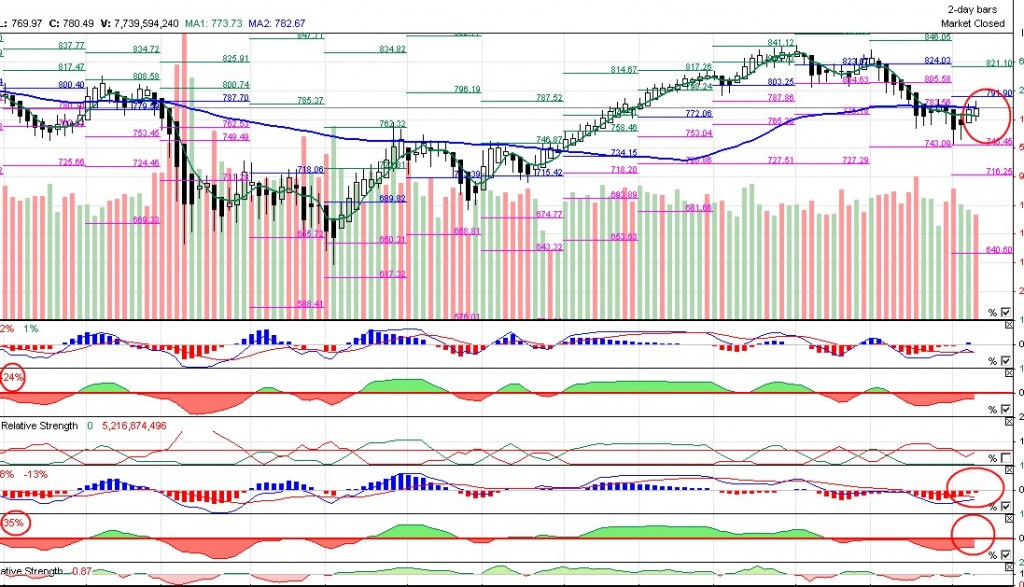 Bear on stocks is still on. Again, let me recommend a new marketvolume site with better prices and still excellent services : http://www.v-charts.com . I received a test account from the founder and owner (Mr. V) weeks ago and I will copy all of my charts to v-charts once I'm out of this project. This site is for smalls, have less services but same indicators, and one more thing: v-MA. As you can see, this current bear market is not a serious one, however, big rise will happen if MA will move above the v-MA. (calculation of v-MA is a proprietary and strictly confidential method (calculates, volatility, volume internals, etc, you just need to read it's value and understand what does it mean).
However histos show this bear is on verge of ehaustion. I feel this Friday – OPEX friday will shock bears as Ben will slap them with full force. Then, as next week is a futures expiry week, bears will come and hit commodities and equities for few days, but then bulls will have better chance to make money than bears.
Just few days, guys, don't be depressed, be fresh and change !!!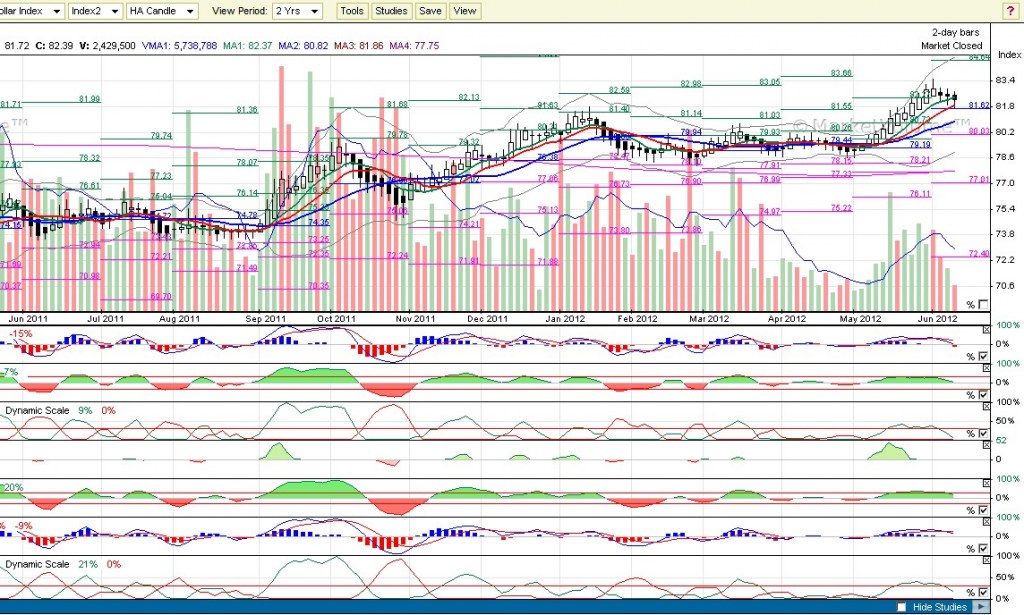 Can you see this dollar chart? Beautiful bearish setup with 3×2 consecutive HA bear signals. Of course, we will see some fight here, and we need to wait for final confirmation (elevated selling volume) but then, if Ben steps in, if ECB wants, all the setup is here to inflate dollar again results huge rise in commodities and will kick all EUR bears out of their chairs.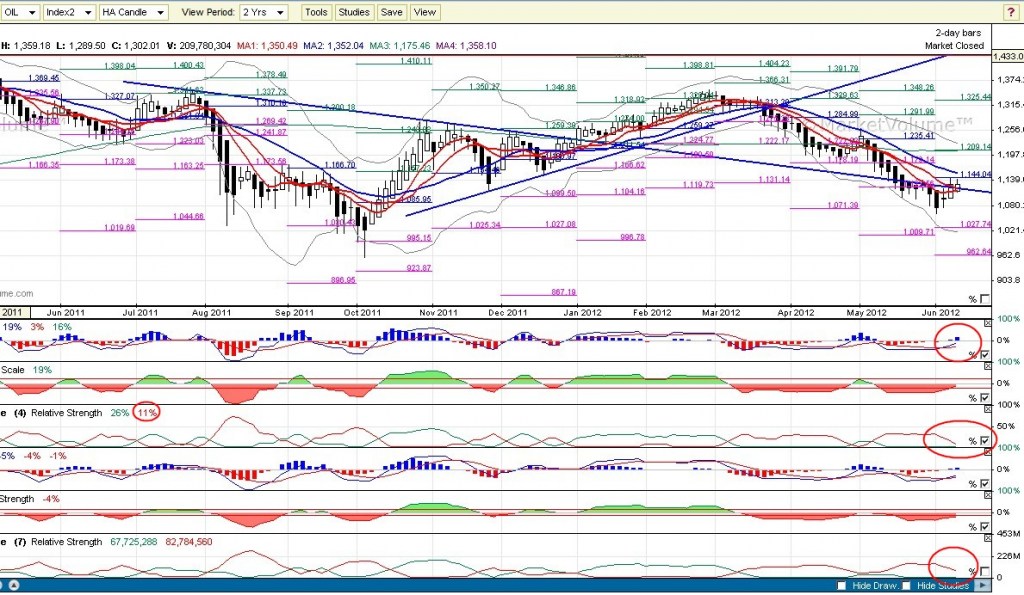 Oil equities (as you remember we trade oil via XOI) show excellent setup for a bullish turn. One more confirmation that something big is happening around smart traders. They dramatically unload their short positions. Again, it's just a setup, nothing more.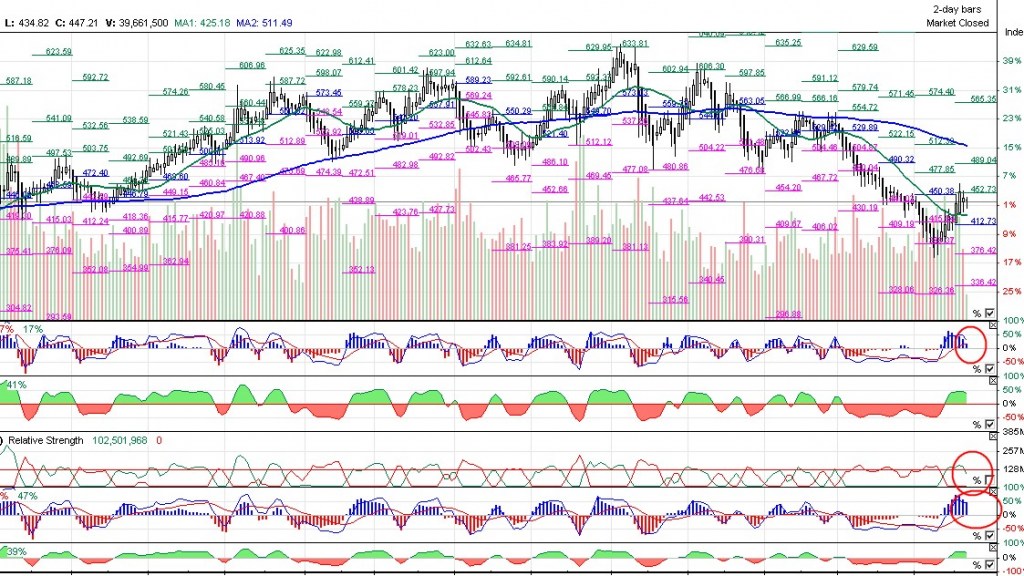 Miners signal weakening period in short-term but long term they seem me fat bull. I eagerly look forward a few days of drag down, where smarts will kick positions from hands of weaks. I would like to see a higher SL after this upcoming correction than the recent lowest low SL under HUI400s. If that happens, I will start to do something I told not to do: leverage to 120%. As per moment, our current exposure seems fine and well-balanced.
Trading update: we will buy oil 20% more. SPX 20% today.
Office memo: Doc will host my new, premium service. Thanks a lot, DOC ( http://www.thedocument.com ). Soon I need to register a DNS and will need to be proficient in html. I hope I can learn these technical things quickly and can start my services. Doc, many thanks for your kind help and hard work making a user interface for volume bugs. We will hide most of our analysis in the future under that site. I will show you more than here I shown, as I have pretty big traffic and a closed site will not let smart traders in, so information will not stream out as easy as now.
Thanks a lot for your emails signaling your willingness to subscribe for my services. I will do my best to make you happy. Now I go back and work, will try to make one more post this week.
Wake up, seems me nice times will come soon!
---
More Posts...